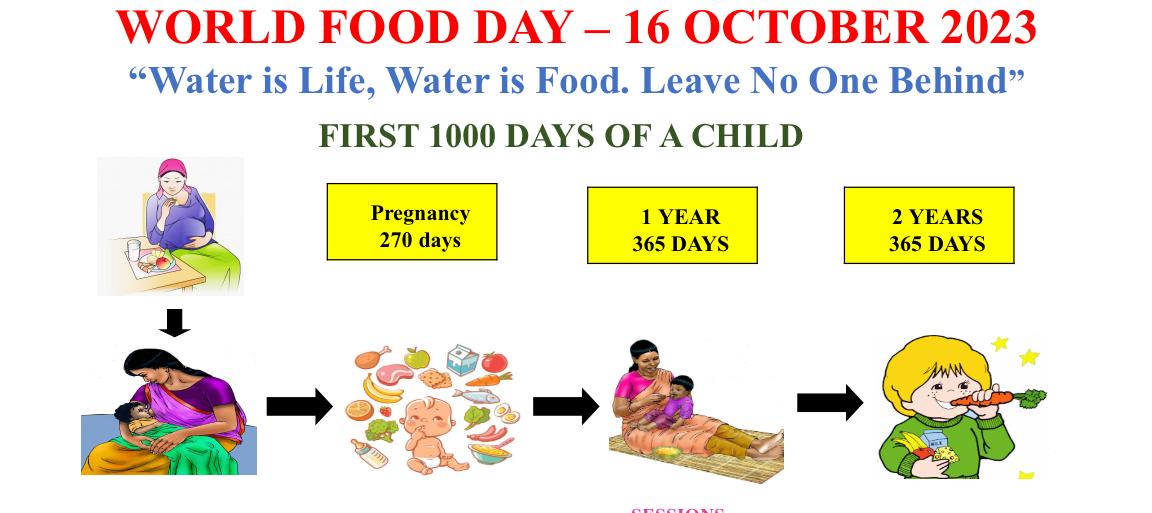 WORLD FOOD DAY- 16TH OCTOBER 2023
FREE DIET COUNSELLING FOR PREGNANCY, LACTATION, INFANCY AND TODDLERS BY DEPARTMENT OF NUTRITION & DIETETICS ON 14TH OCT. 2023
INTRODUCTION:
GOOD NUTRITION HOLDS IMMENSE IMPORTANCE FOR CHILDREN TO LEAD A HEALTHY AND DISEASE FREE LIFE PARTICULARLY FOR THE FIRST 1000 DAYS OF CHILD LIFE STARTING FROM CONCEPTION TILL THE SECOND YEAR OF THE CHILD. IT IS A CRITICAL WINDOW OF TIME THAT SETS THE STAGE FOR A CHILD'S FUTURE WELL BEING.
AS STATED BY OUR HONOURABLE PRIME MINISTER SHRI NARENDRA MODI IN MANN KI BAAT,"BALANCED AND NUTRITIOUS FOOD IS ESSENTIAL FOR ALL OF US , MORE SO FOR WOMEN AND THE NEW- BORN , SINCE THESE TWO CATEGORIES ARE THE FOUNDATION OF THE FUTURE OF OUR SOCIETY. IF U MANAGE TO SAVE A FEW PEOPLE FROM MALNUTRITION , IT WOULD MEAN THAT WE CAN BRING THE COUNTRY OUT OF THE CIRCLE OF MALNUTRITION ."
WORLD FOOD DAY , CELEBRATED ON 16 TH OCTOBER 2023, SERVES AS A POWERFUL REMINDER OF THE GLOBAL CHALLENGE OF ENSURING FOOD SECURITY FOR ALL. EXPERT DIETICIANS WILL BE IMPARTING FREE DIET COUNSELLING TO PREGNANCY, LACTATION , INFANCY AND TODDLERS.THIS INITIATIVE SEEKS TO EMPOWER PARENTS AND CAREGIVERS WITH THE KNOWLEDGE AND RESOURCES THEY NEED TO NOURISH THEIR CHILDREN OPTIMALLY.
OUR MAIN PURPOSE IS TO RAISE AWARENESS ABOUT SUSTAINAIBLE AND ECO FRIENDLY FOOD PRACTISES, EMPHASIZING THE IMPORTANCE OF RESPONSIBLE CONSUMPTION.
#NOURISHWITHCARE #HEALTHANDWELLBEING
MARK YOUR CALENDARS FOR 14TH OCTOBER 2023 AND JOIN US AT THE 'AUDITORIUM HALL A', NURSING SCHOOL OF SIR GANGA RAM HOSPITAL FROM 10:00 AM TO 2:00 PM.
FROM DIETETICS DEPARTMENT
MS. VANDANA VERMA (HOD)