ABSTRACT
The Department of Cardiac Anaesthesia at Sir Ganga Ram Hospital has come a long way since its inception in the year 1999. From the era of on-pump coronary artery bypass grafting to that of off-pump surgeries, and now stepping into the future of cardiac surgery, with minimally invasive surgeries; the department has kept itself at par with international standards in terms of patient safety, monitoring equipment and postoperative outcome. The mortality rate and the complication rate in the department have come down significantly since 1999, which reflects the department's comprehensive efforts towards patient safety throughout the perioperative period. The Department of Cardiac Anaesthesia is accredited by the National Board of Examinations and Indian Association of Cardiovascular Thoracic Anaesthesiologists to conduct two-year fellowship courses in cardiac anaesthesia. We have successfully conducted cardiac transplantation in the year 2011 and have thus become the first private institution in north India to achieve this feat. In future, we will continue to adopt the latest monitoring technologies and therapeutic interventions so as to make cardiac anaesthesia even more safe and further improve patient's outcome. 
Introduction
Cardiothoracic anaesthesiology is a subspecialty of anaesthesiology, dedicated to the perioperative care of patients undergoing cardiothoracic surgery. The subspecialty has expanded its horizons to provide specialist services like extracorporeal membrane oxygenation (ECMO) and therapeutic hypothermia along with playing a pivotal role in management of critically ill patients in cardiac intensive care and cardiac catheterization laboratory.
Historical aspects
The Dharma Vira Heart Centre (DVHC) at Sir Ganga Ram Hospital was established in 1999. It was inaugurated by the then President of India, Dr K.R. Narayanan, and named after Dharma Vira ji, an eminent civil servant, administrator and founder member of the Sir Ganga Ram Trust.
The first chairman of the Department of Cardiac Anaesthesia was Dr Rajan Ghadiok, who, along with Dr O.P. Yadav, a renowned cardiac surgeon, started doing cardiac surgeries at the DVHC. The milestones of the DVHC are displayed in Table 1.
Structure and staffing
The department is ably headed by Dr Arun Maheshwari, senior consultant with over 25 years of experience in cardiac anaesthesia. He is supported by Dr Rachna Gupta, consultant, Dr Monish Rout, associate consultant and Dr Elvin Daniel, clinical assistant in the departmental activities. The department has two DNB fellows in cardiac anaesthesia and senior residents. Dr Reena Joshi, consultant, looks after paediatric cardiac anaesthesia.
The Department of Cardiac Anaesthesia has two well equipped, state-of-the-art cardiac operating rooms (OR), a recovery area for immediate postoperative care and a 13-bedded postoperative surgical ICU. All beds are connected by a central monitor and are equipped with modern ventilators, advanced monitoring facilities and support system, such as arterial blood gas analyzer, point of care coagulation monitoring like TEG and sonoclot, patient-controlled analgesia pumps, infusion pumps, intra-aortic balloon pumps and centrifugal pumps. The nurse-to-patient ratio is 1:1, ensuring that the patient receives the maximum care (Fig. 1).
Services provided
The Department of Cardiac Anaesthesia provides round the- clock services at DVHC. These include anaesthesia management of routine and emergency cardiac surgical procedures, postoperative care, management of sick patients in the cardiac critical care unit and in cardiac catheterization laboratory.
Operating room
The Department has been catering efficiently to an ever-increasing number of various cardiac surgical cases each year. There has been a transition from conventional on-pump coronary surgeries to off-pump and minimally invasive surgeries. Along with this transition, the anaesthetic management has also changed with the addition of advanced monitoring tools, availability of newer drugs with a better safety profile and continued intensive monitoring in the postoperative period. This has resulted in a decreasing trend of perioperative mortality, in keeping with international standards. The mortality rate has come down from 2.8% in 2001 to 0.6% in the past year.
Difficult airway management
The department has facilities for fiberoptic guided intubation, video laryngoscopy and different types of laryngeal mask airways and laryngoscopes to manage cases with difficult airway.
Intraoperative monitoring
The Department of Cardiac Anaesthesia is well equipped with the latest monitoring technologies, at par with the international standards laid down by the American Society of Anaesthesiologists and Anaesthesia Patient Safety Foundation. These technologies, which include transoesophageal echocardiography (TEE), near infrared spectroscopy and bispectral index, ensure the safety of the patient throughout the surgery.
Transoesophageal echocardiography
TEE (Fig. 3) has rapidly become the most powerful monitoring and diagnostic tool for management of cardiac surgical patients. It provides detailed information on the structure and function of the heart and great vessels, volume status and presence of pericardial fluid. Because of the proximity of the oesophagus to heart, TEE provides a better image of the heart than transthoracic echocardiography. TEE has a significant influence on surgical and medical decision-making, and may lead to changes in therapy leading to a better outcome. TEE is being used since 2005 in various cardiac surgical procedures. We have performed more than 800 TEE examinations till date (Fig. 4.).
Pulmonary artery catheterization
Pulmonary artery catheter is inserted in patients with poor ejection fraction and complex cardiac surgeries. It is used to continuously monitor the pulmonary artery pressures and cardiac output. It helps to rationalize the administration of various vasoactive drugs to achieve optimum patient outcome.
Intraaortic balloon pump
Intraaortic balloon pump is very useful in reducing cardiac workload and enhancing organ perfusion. It is inserted in patients with poor left ventricular function.
Ultrasound-guided venous access
We use ultrasound-guided central venous catheterization to ensure safety in high-risk patients on anticoagulants (Fig. 5). Compared with anatomical landmark technique, ultrasound guidance increases the chances of successful catheterization, reduces complications during placement, and decreases the need for multiple attempts.
Cardiopulmonary bypass
CPB is a technique in which the heart-lung machine temporarily takes over the function of the heart and lungs during surgery. (Fig. 6). CPB is a team effort involving cardiac surgeon, perfusionist and anaesthesiologist (Fig. 7).
Services provided in the recovery room and surgical ICU
The 4-bedded recovery room is equipped with the latest cardiac monitoring facilities, including central monitors that allow for continuous supervision. The Department of Cardiac Anaesthesia provides fast-track cardiac anaesthesia services. This has reduced the cost and length of the stay in the ICU. Tranthoracic echocardiography and TEE are available round the clock to help in critical diagnosis at any point in time.
Services provided in cardiac critical care unit
The Department of Cardiac Anaesthesia is responsible for the management of all critically ill patients in the coronary care unit who require ventilation, whether invasive or noninvasive; advanced airway management; percutaneous tracheostomy; bedside temporary pacemaker placement; and intra-aortic balloon pump insertion.
The department has also started ECMO (extra corporeal membrane oxygenation) program wherein patients with severe respiratory or cardiac dysfunction are provided temporary support (Fig. 8.).
The department is also providing therapeutic hypothermia to post cardiac arrest comatose patients to improve the neurological outcome in such cases. The program is being run as per AHA guidelines (Fig. 9.).
Services provided in cardiac catheterization laboratory
There have been considerable advances in various procedures in interventional cardiology that require cardiac anesthesiologist to play a more active role as a perioperative physician, taking care of the patient while allowing the cardiologist to focus on his job. The cardiac anesthesiologist faces various challenges in providing anaesthesia at the cardiac catheterization laboratory, such as limited access to airways and limited intravenous access, radiation safety and arrhythmias. The Department provides round-the clock anaesthesia services in the cardiac catheterization laboratory. Apart from this, the department provides critical care services to the sick patients in catheterization laboratory, such as those coming for primary percutaneous transluminal coronary angioplasty (PTCA). The various procedures performed include coronary angioplasties, device closure for atrial septal defect, patent ductus arteriosus, pacemaker implantation and radiofrequency ablation.

Clinics
PAC clinic
All patients scheduled for surgery undergo comprehensive examination to formulate a safe anaesthetic plan. Patients are counseled on the procedure and their fears and anxieties are allayed. They are evaluated with transthoracic or transoesophageal echocardiography to assess cardiac structural and functional derangements.
Postoperative pain clinic
A multimodal approach to pain control, including the use of newer drugs such as dexmedetomidine, intravenous paracetamol, pregabalin and thoracic epidural in suitable patients has allowed us to achieve better pain management and considerably reduce extubation time. We have been able to reduce the hospital stay and cost of treatment, and have achieved better postoperative outcomes.
Other services
Round-the-clock emergency services for cardiopulmonary resuscitation are provided by the Department of Cardiac Anaesthesia in the DVHC. There is provision for securing central venous access and shifting sick cardiac patients to the CT/MRI suite (Table 2).
Academic pursuit
The Department of Cardiac Anaesthesia has an active academic schedule. There are regular academic sessions, which include case presentations, seminars and journal reviews. Recent advances in anaesthesia and interesting cases are discussed in the academic meetings of the hospital as well as in the combined meetings with the Department of Cardiology. The department also conducts regular academic and educational activities for nursing students.
The Department is recognized by the National Board of Examinations and Indian Association of Cardiovascular Thoracic Anaesthesiologists for Fellowship in Cardiac Anaesthesia. Two seats are available each year. The DNB students from the department are presenting papers and posters in National conference every year.
Landmark—heart transplantation
Sir Ganga Ram Hospital has become the first private hospital in north India to successfully perform heart transplantation. The Department of Cardiac Anaesthesiology has played an integral role in organ harvesting and perioperative management of heart transplantation.
Case summary
A 44-year-old woman, a known case of diabetes and hypothyroidism, presented with a history of progressively increasing shortness of breath (NYHA Class IV) and bilateral pedal oedema. Her echocardiogram revealed global LV hypokinesia, LVEF 20% and moderate mitral regurgitation. She was assessed thoroughly and found to be suitable for cardiac transplantation. Anaesthetic management of the donor was done during multiple organ harvesting to maintain optimal organ perfusion and cellular oxygenation. The donor heart was immediately transported to the cardiac OR (Fig. 10). Orthotopic cardiac transplantation was done, using bicaval anastomosis (Fig. 11). The cardiac ischaemia time was less than 4 hours. A Swan- Ganz catheter was introduced after completion of anastomosis to monitor cardiac index and systemic and pulmonary vascular resistance. Intraoperative and postoperative TEE was performed to assess cardiac function. Inotropic and vasopressor support was optimized. Inhaled nitric oxide was administered which was gradually withdrawn by the fourth postoperative day, with no evidence of rebound pulmonary hypertension and RV dysfunction. The postoperative echocardiogram revealed good LV and RV function. Immunosuppressant drugs were started. At present, the patient is doing well and her cardiac function is good.
Coordinated team efforts by cardiac anaesthesiologists, cardiac surgeons and perfusionists have made organ harvesting, donor heart transport and cardiac transplantation a successful procedure.
Future vision
Worldwide, the focus in all specialties is shifting to minimally invasive procedures. There is an increasing interest in minimally invasive procedures in the cardiac set-up as well. Our future vision is to actively pursue minimally invasive cardiac surgeries so as to shorten the hospital stay of the patient, ensure rapid recovery, decrease the cost of healthcare, and achieve better postoperative outcomes in terms of morbidity and mortality. The Department of Cardiac Anaesthesia will play an integral role in making this vision a reality by incorporating safe anaesthesia practices, using updated and the latest monitoring technology, and using newer and safer pharmacological therapies.
We plan to incorporate real-time 3D transoesophageal echocardiography as an advanced non-invasive monitoring tool. This will also help in complex surgical procedures such as valve repairs, as the exact anatomical pathology can be assessed and evaluated before the surgery and the plan of action formulated accordingly.
We hope to actively pursue the cardiac transplantation programme through team work so as to become one of the best centres in the country offering this service to patients in need and thus contributing significantly to the organ transplantation initiatives of Sir Ganga Ram Hospital.
MILESTONES OF DHARMA VIRA HEART CENTRE
1999 First open-heart surgery at the institute
2002 Off-pump coronary artery bypass surgeries
2005

Transoesophageal echocardiography
Advanced haemodynamic monitoring—
Continuous cardiac output monitoring
Continuous mixed venous oxygen saturation monitoring

2006 Complex cardiac surgeries
2007 Comprehensive postoperative pain management—thoracic epidural analgesia
2008 Fast-track cardiac anaesthesia
2009 Pulmonary thromboendarterectomy
2010 Minimally invasive cardiac surgeries (MIDCAB and valve replacement)
2010 Hypertrophic obstructive cardiomyopathy surgeries
2010

Subspecialty fellowship programme in cardiac anaesthesia
accredited by National Board of Examinations

2011 Heart transplantation
2011 Paediatric cardiac surgery unit started
2012

Therapeutic hypothermia
Ventricular assist device
Aortic arch replacement
Subspecialty fellowship programme in cardiac anaesthesia, accredited by Indian Association of Cardiovascular Thoracic Anaesthesiologists

2013 Extra corporeal membrane oxygenation (ECMO) for H1N1 patients with respiratory failure
SERVICES PROVIDED BY DEPARTMENT OF CARDIAC ANAESTHESIA
PERIOPERATIVE
Anaesthesia for on-pump surgeries
Anaesthesia for off-pump surgeries
Anaesthesia for minimally invasive surgeries
Anaesthesia for complex cardiac surgeries requiring deep hypothermic circulatory arrest
Single-lung ventilation
Anaesthetic management of organ harvesting and heart transplantation
Thoracic epidural for pain relief
Transoesophageal echocardiography
Epicardial echocardiography
Ultrasound-guided central venous access
Swan-ganz catheterization
Intraaortic balloon counterpulsation device insertion and management
Percutaneous dilatational tracheostomy
Cardiopulmonary bypass
Inhaled nitric oxide use for patients with severe pulmonary artery hypertension
Fiberoptic bronchoscopy for perioperative diagnostic and therapeutic purpose
Regional nerve blocks for intractable ventricular arrythmias
IN CARDIAC ICU AND CATHETERIZATION LABORATORY
Cardiopulmonary resuscitation
Therapeutic hypothermia for neuroprotection in post cardiac arrest comatose patients
Extra corporeal membrane oxygenation for respiratory support
Ventilatory management
Securing central venous access
Invasive arterial monitoring
Bedside percutaneous tracheostomy
Patient transport to radiology suite, operation theatre
Comprehensive management of critically ill patients
Intra aortic balloon pump (iabp) insertion and management
Anaesthesia for elective cardioversion
Sedation for various procedures such as ptca, balloon mitral valvotomy, temporary and permanent pacemaker insertion
Anaesthesia for complex procedures such as cardiac resynchronization therapy, asd closure, pda closure, coarctation of aorta, radio frequency ablation
Critical care of unstable patients during cardiac catheterization procedures
Transthoracic/ transoesophageal echocardiography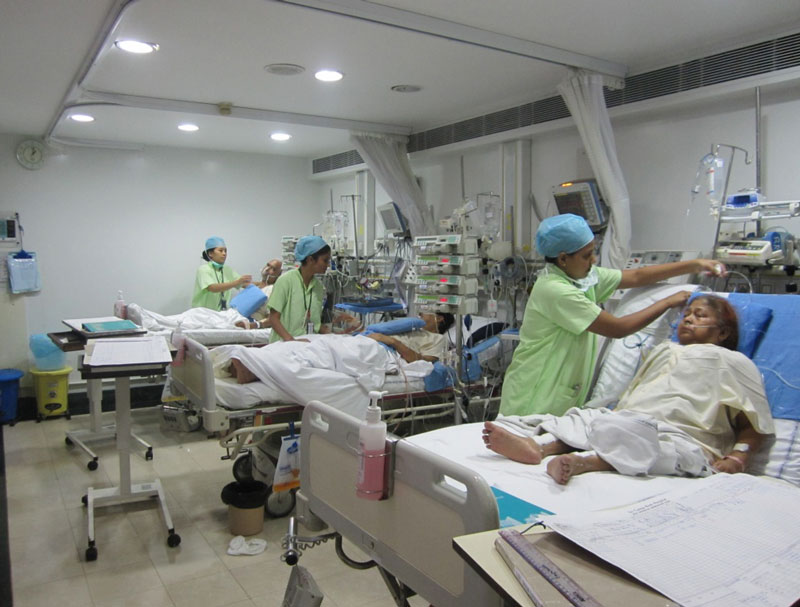 Fig. 1. Postoperative surgical ICU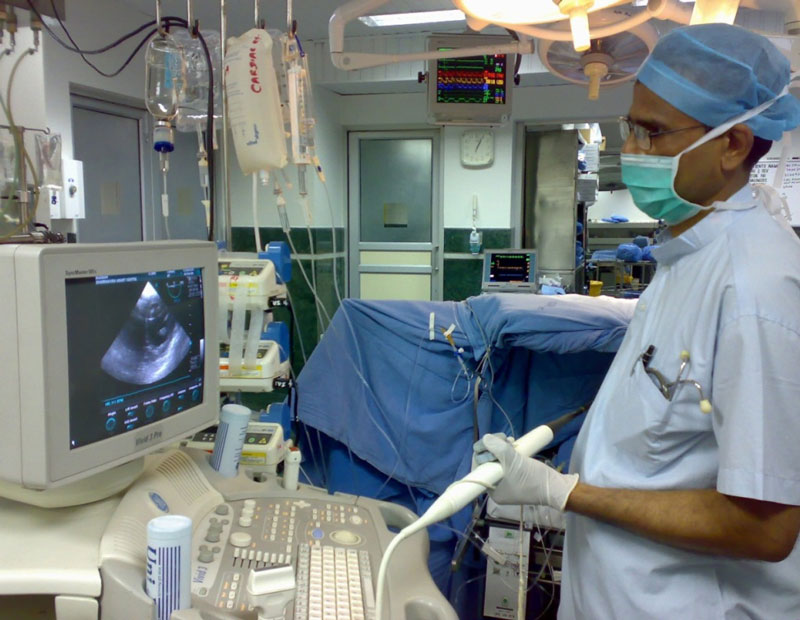 Fig. 2. Perioperative Transoesophageal echocardiography (TEE)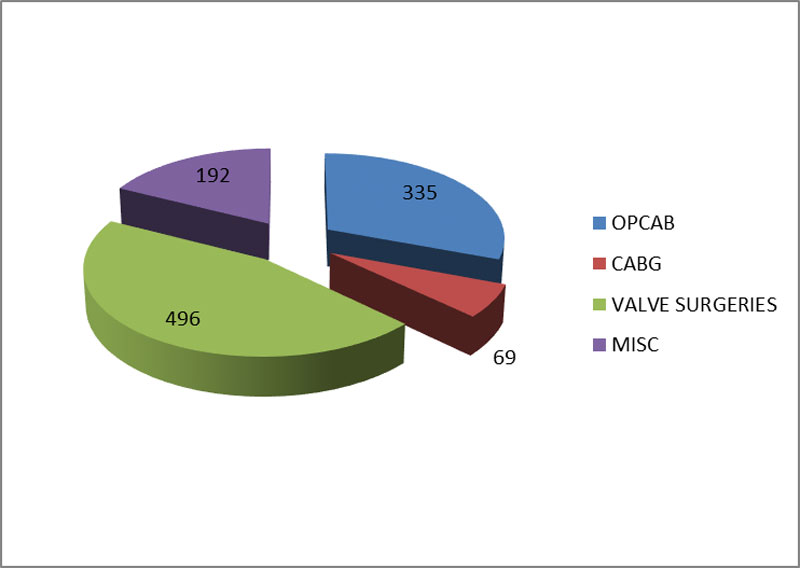 Fig. 3. TEE procedures done from 2005 onwards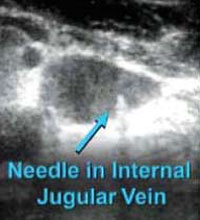 Fig. 4. Ultrasound-guided central venous catheterization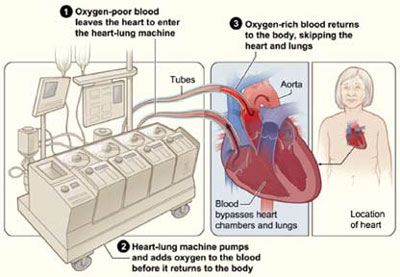 Fig. 5. Heart Lung machine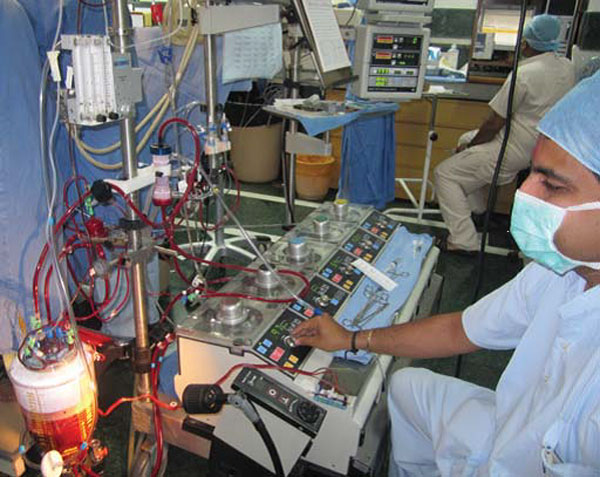 Fig. 6. Cardiopulmonary bypass manned by perfusionist and monitored by anaesthesiologist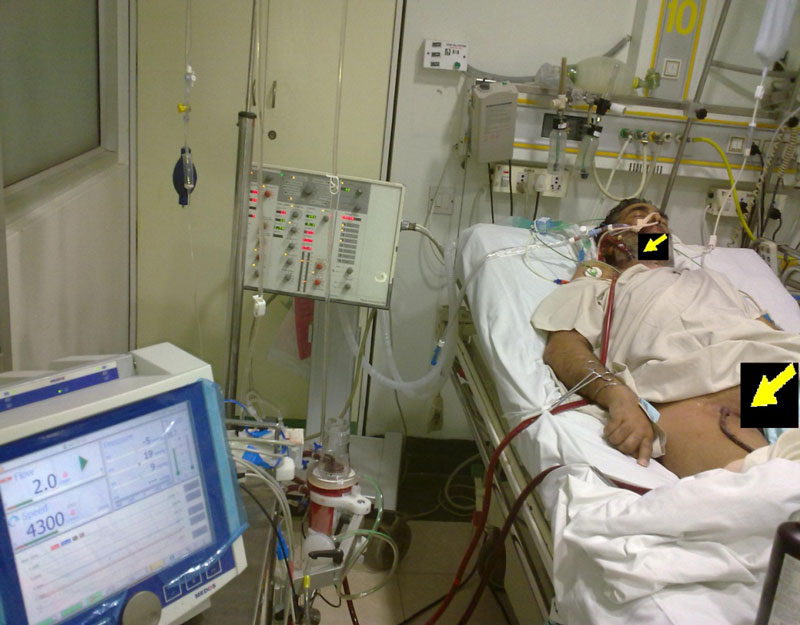 Fig.7.Extra corporeal membrane oxygenation (ECMO) support provided to H1N1 patient with respiratory failure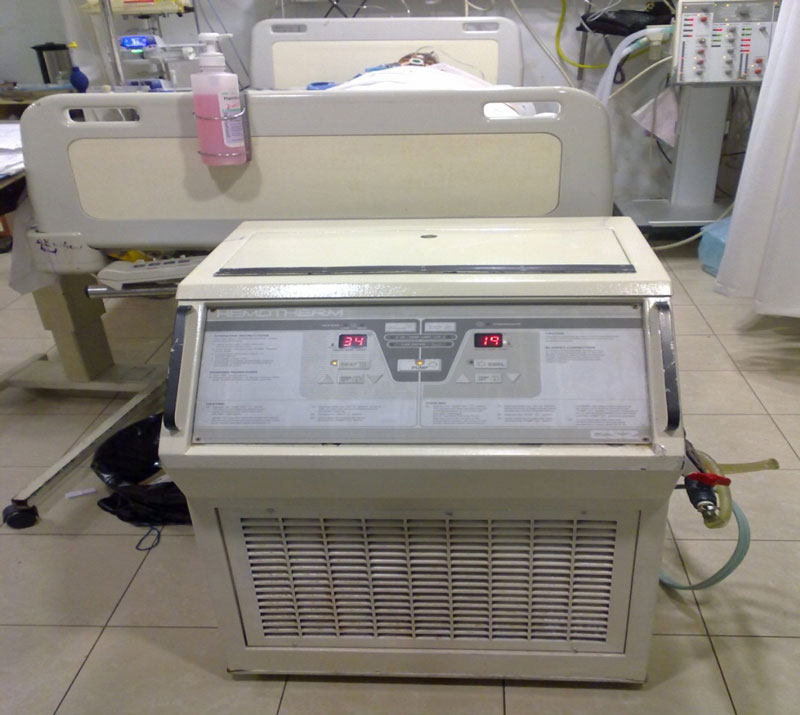 Fig. 8. Therapeutic hypothermia for neuroprotection in post cardiac arrest comatose patients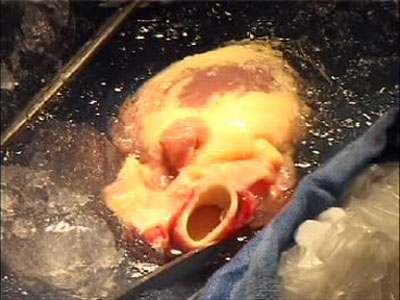 Fig. 9. Harvested donor heart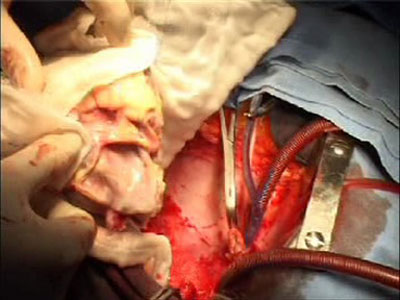 Fig. 10. Donor heart being transplanted