The Department of Orthopaedic Surgery is staffed with a very competent and renowned faculty.
Dr. V.B. Bhasin (Chairman)
Dr. Gaggan Chadha (Co-Chairman)
Dr. Prateek K. Gupta (Vice-Chairman)
Unit I
Sr. Consultant - Dr. Sarabjeet Singh Sachdeva
Sr. Consultant - Dr. Rajat Chopra
Retired Consultant - Dr. R. Bhalla
Unit II
Sr. Consultant - Dr. Manish Dhawan
Consultant - Dr. Brajesh Nandan
Unit III
Sr. Consultant - Dr. Gaggan Chadha (Co-Chairman)
Sr. Consultant - Dr. Satish Kumar Sharma
Sr. Consultant - Dr. Dhirender Kumar Dhiraj
Arthroscopy & Sports Medicine Unit:
Sr. Consultant - Dr. V.B. Bhasin (Chairman)
Sr. Consultant - Dr. Prateek K. Gupta (Vice-Chairman)
Sr. Consultant - Dr. Amar Jeet Singh
Sr. Consultant - Dr. Ashis Acharya
Associate Consultant - Dr. Shashank Misra
Retired Consultants:
Dr. Asis Mukerjee
Dr. S.P. Mandal
Dr. V.K. Nijhawan
Secretariat 
Ms. Dolly Sharma Department Secretary Room No.1218 A, 2nd Floor, Old Building Sir Ganga Ram Hospital Rajinder Nagar New Delhi-110060 Tel. No.: +91 11 42251809
The Department of Orthopaedics is one of the most advanced and up to date centres in the field of orthopaedics. It is having a faculty of consultants, each pursuing a specialist field along with general orthopaedic work. The department is one of the best tertiary centres for management of complex trauma patients in the northern part of India.
Since last five years, we have been performing average 1500 major surgeries annually. 
Following are the facilities available:
Trauma and general orthopaedics: Consultants are available round the clock to attend to all types of bony and musculo-skeletal trauma. The department is backed up by fully equipped operative rooms for any procedure to be done in short time. Facilities available are complex trauma management including reconstruction of pelvis, acetabulum and shoulder. The department is well supported by Radiology, Neurosurgery, Vascular Surgery and Plastic Surgery departments at Sir Ganga Ram Hospital.
Limb Salvage Surgery in Bone Tumour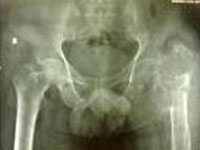 Anenrysmal Bone Cyst Proximal femur with gross destruction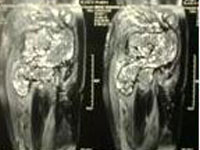 MRI showing soft tissue extension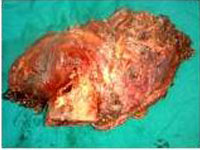 Gross specimen of the tumour after wide resection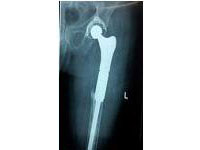 Post-operative radiograph after reconstruction using mega prosthesis
Fracture Acetabulum Managed by Both Column Reconstruction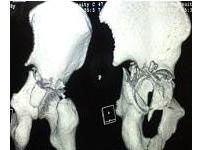 Fracture both column acetabulum with fracture posterior wall acetabulum
Both column and posterior wall fixation
Joint replacement: Department of Orthopaedics is geared up fully for joint replacement surgeries. The department has experience of more than 25 years in joint replacement surgeries. Other than Total Knee and Hip Replacement, the department is doing elbow, shoulder and revision arthroplasty regularly. There is separate state-of-the-art physiotherapy department to take care of post-operative patients.
Acetabular Reconstruction by Reinforcement Ring:
6-months old central fracture dislocation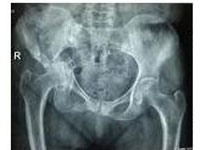 CT-Scan showing deficient medial wall, fracture anterior column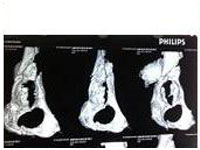 Acetabulum reconstruction by Reinforcement Ring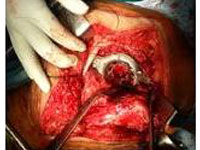 Post-operative radiograph
Arthroscopy & Sports Medicine unit: Arthroscopy is regularly being done for all major joints - knee, shoulder, wrist, ankle, elbow, spine along with special focus on stiff knee arthroscopy and state of the art surgery for ligament reconstruction.
Spine and Back Surgery: All kinds of spine surgeries, including disc prolapse and spinal fixation, are being done regularly in the Department.
Ilizarov Surgery: This specialised modality is being widely used for treatment of infected/non-infected non unions, limb length discrepancy & deformity correction of limbs. This modality is also being used to treat high velocity complex fractures of limbs. Cases of cosmetic lengthening have been successfully done in the department. Department has now introduced computerized robotic Hexapod / SUV frame for deformity correction and limb lengthening.
Hexapod Fixator System: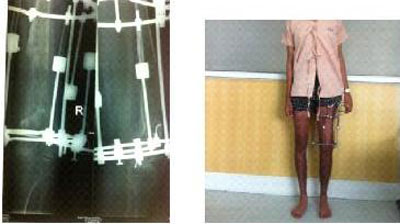 Photographs of patient before surgery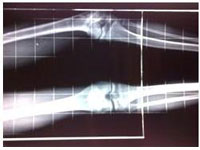 X-ray showing deformity of the limb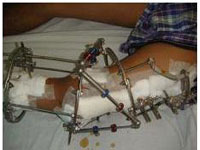 Photograph showing Hexapod Fixator on patient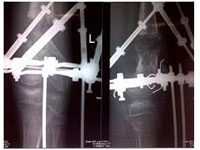 X-ray showing gradual correction with Hexapod Fixator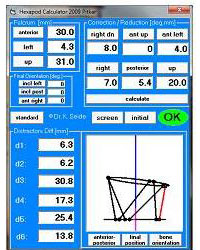 Software calculations calculations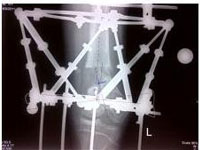 X-ray - Ap view showing calculation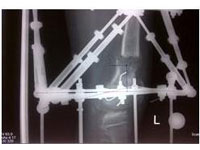 X-ray - Lateral view showing calculation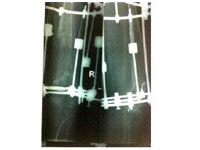 X-ray showing final correction of deformity & lengthening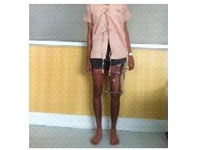 Photograph of patient's leg after correction & lengthening with hexapod Fixator. Fixator is retained to allow time for maturation of regenerate
Paediatric Orthopaedics: Paediatric orthopaedic surgeries including polio, cerebral palsy, club foot, CDH (by birth hip problems), CTEV (twisting foot), Perthes' disease, slipped capital femoral epiphysis, congenital anomalies and operative treatment of fractures are regularly managed in the department.
Hand Surgery: Department is well-equipped for management of hand trauma including reconstruction of crush injury hand and various fractures in the hand and wrist.
Foot and Ankle Surgery: The department is fully geared up for all kinds of complex foot & ankle surgeries. All kind of foot deformities, like hallux valgus, bunion, cavus and diabetic foot are managed surgically.
Bone Bank facility has been with Department of Orthopaedics for more than 20 years and over 3500 cases of bone grafting have been done. It has particularly been useful in revision arthroplasty, spinal fusion and tumour surgeries.
Academics & Training: The Department follows a good academic training programme for DNB students, which includes seminars, journal clubs and case presentations. The Department is one of the earliest departments, which was recognized by the National Board of Examinations for DNB and the protocol for training prepared for DNB has been used as a model protocol by the National Board of Examinations all over the country.
At present there are 10 postgraduate students in the department. There are four fellows from Afghanistan for training in Orthopaedics under exchange programme from National Board of Examinations.