Introduction
At Dharma Vira Heart Centre since last 38 years it's our ardent desire to provide you with the highest standards of healthcare services. We wish to offer you a wealth of clinical experience in a collegial setting. We ensure delivery of quality care with highest level of expertise from medical experts backed by well – trained support staff, robust infrastructure and efficient systems and processes. The staff will do their best to provide you with an efficient service aiding to your speedy recovery. "We will put the patient first and foremost. That is our commitment and we will do everything possible within our reach to fulfill this commitment" A vision to provide world-class services to every citizen of India, a country with vast disparities in the quality, accessibility and affordability of healthcare services. DVHC is always geared up to perform the procedure at any time of day or night.
About Dharma Vira Heart centre:
The Dharma Vira Heart centre at Sir Ganga Ram Hospital is a marvel of technology advanced heart care centre. It is among the India's one of the best centre for the treatment of heart disease.
We hold the Limca book of records twice coronary bypass surgeries without any death during hospitalization.
Here cardiac care is a balance between quality & personalized attention.
The DVHC was inaugurated by His Excellency Late Sh.K.R. Narayanan, the President of India, on February 6, 1999, as is named after the doyen of yesteryears' civil services, the late Mr. Dharma Vira. The Centre caters to a wide spectrum of cardiac cases from neonates to adults and from the routine to the very complicated.
The DVHC is staffed by a team of dedicated and value driven medical professional, whose endeavor it is to provide the ultimate in medical care, for they believe in "Together we care…As no one has ever done before"
Equipped with Sate of the-art technology and staffed with highly qualified medical personnel, the DVHC is a cardiac care centre par excellence.
Each of the beds In the Intensive Coronary Care Unit (ICCU) with back up of IMCU (Intermediate Coronary Care Unit) staffed with trained nurses on a 1:1 basis the facilities for monitoring ECG, Haemodynamics, Oxygen Saturations and Respiration Monitors. 
There is a team of cardiologist in constant attendance. Bedside Echocardiography, X-rays, Temporary Pacing and Intra-Aortic Balloon pump (IABP) counter pulsation support is also available. The ICCU handles a host of cardiac emergencies such as an Acute MI, Heart Failure, and Cardiogenic Shock and Life-Threatening Arrhythmias.
Faculty -
The faculty is rich mixes of young and experienced consultants who are not only dedicated and devoted to their patients but also highly lettered and have very large number of publications in national and international indexed journals.  They are represented at all conferences and symposia in the country and abroad.  Quite a few of them are invited as guest faculty.
| Department of Cardiology | Department of Cardiac Surgery |
| --- | --- |
| Dr. P.K.Khanna, Advisor | Dr. Ganesh Shivnani, Chairperson |
| Dr. J.P.S.Sawhney, Chairperson | Dr. Sujay Shad, Director Heart and Lung Transplant |
| Dr. S.C.Manchanda, Retired Consultant | Dr. S.Dubey, Sr. Consultant |
| Dr. R.R. Mantri, Director – Cath Lab | Cardiac Anaesthesia |
| Dr. A. Maheshwari, Chairperson | Dr. Rachna Gupta, Consultant |
| Dr. Rajat Mohan, Director | Dr. Elvin Daniel, Clinical Asst. |
| Dr. Rajneesh Jain, Co-Director – Cath Lab | Dr. Munish |
| Dr. Sangeeta Sachdeva, Co-Director | Department of Paediatric Cardiac Sciences |
| Dr. Rajiv Passey, Sr.Consultant Cardiologist | Dr. Raja Joshi, Chairperson |
| Dr. Ashwani Mehta, Sr.Consultant Cardiologist | Dr. Neeraj Agarwal, Paed. Cardiologist |
| Dr. B.Kandpal, Consultant Cardiologist | Dr. Mridul, Paed. Cardiologist |
| Dr. Arun Mohanty, Consultant Cardiologist | Dr. Reena Khantwal Joshi, Paed. Anesthetist |
| Dr. B.S.Vivek, Consultant Cardiologist |   |
| Dr. Aman Makhija, Consultant Cardiologist |   |
| Dr. Manish Kr.Sharma, Consultant Cardiologist |   |
| Dr. H L Kher, Retired Consultant |   |
| Dr. Anjali Arora (Lipid Clinic) |   |
| Dr. Kushal Madan, Cardiac Rehabilitation Consultant |   |
| Dr. Monika Sharma, Clinical Psychologist |   |
Highlights of the department
24x7 availablity of cardiology consultants at the center enabling quality care to the patients and round the clock intervention cardiology services
One of the largest series of successful primary angioplasty program of the country.
First heart transplant in 2011 the private sector in the Northern India.  The patient is hale and hearty and enjoying a normal life after 7 year.
433 cardiac surgeries without a single mortality and has earned the honour of place in LIMCA book of records.
Successful cardiac surgery for patients of HOCM
Successful surgery for patients of chronic pulmonary thromboembolism
Comprehensive Cardiac rehabilitation program
Journal of Preventive Cardiology for fellow physicians
The project of stem cells is already in the pipeline and awaiting clearance from Medical Council of India
Infrastructure at the Dharmavira Heart Centre
Two operation theatres
17 bed post operative complex
2 digitised cardiac cath lab
16 bed intensive coronary care unit
18 beds Cardiology ward
3 bedded Radial Lounge
6 bedded Cath recovery
Paediatric cardiology ICU
Admissions in the department of Cardiology in the year 2012
Total number of admissions - 5728 patients
a. Male -3465
b. Female -2213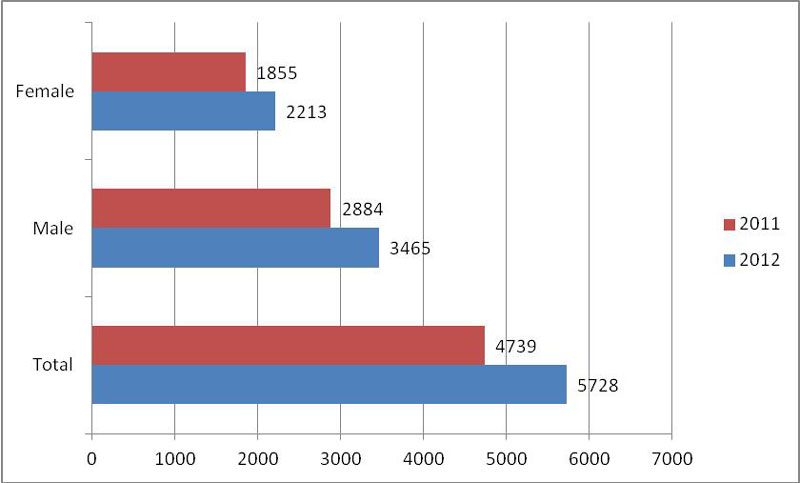 Total number of patients admitted in major diagnostic conditions
Coronary Artery Disease - 4230
Rheumatic Heart Disease - 202
Others - 1326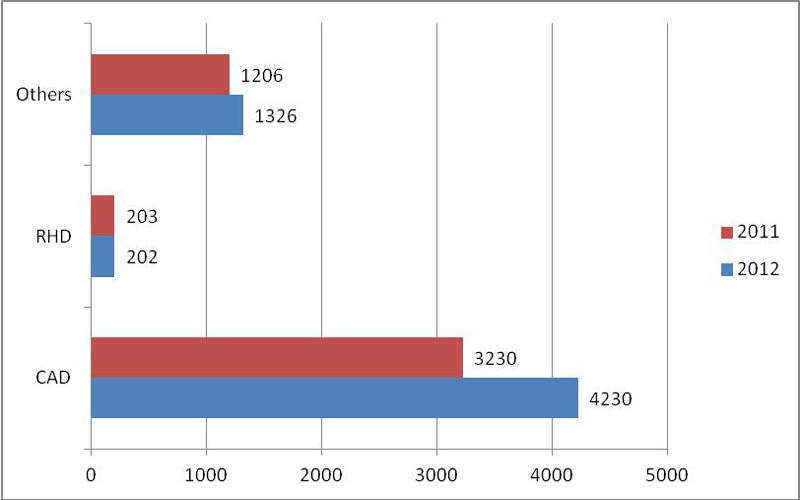 Cardiac Catheterisation Procedures
More than 8,000 invasive procedures are performed each year in the Cardiac Catheterisation Lab. Cath lab teams include highly skilled and specialised nurses, cardiovascular and cath lab technologists. The experienced team assists the cardiologist in providing services 24 hours a day for scheduled and emergency procedures. The Centre provides state-of-the-art imaging equipment that visualizes and detects coronary artery disease. The images can be stored in the system as a guide for immediate or later treatment of the disease process. State-of-the-art electrophysiology equipment is utilised by the cardiologist and staff to diagnose and treat advanced cardiac dysrhythmias (irregular cardiac rhythms).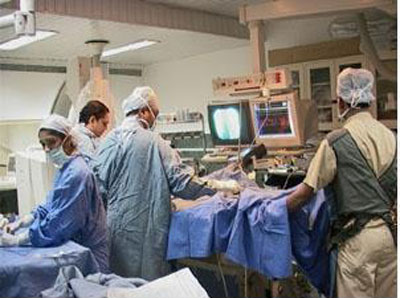 Procedures performed in the Cardiac Catheterisation Lab include:
Left and right heart catheterisation
Percutaneous transluminal coronary angiography
Percutaneous transluminal coronary angiograplasty, (Coronary Stent)
Athrombectomy (Clot Removal System)
Peripheral arteriograms & interventions
Permanent pacemaker implantation
Catheter ablation  of arrhythmias
Permanent pacemaker insertion
Implantable cardiac defibrillators
Cardiac resynchronisation therapy
Balloon Valvotomies - Mitral, Aortic and pulmonary
Percutaneous Closure of ASD, VSD and PDA
Electrophysiology studies
Cath Lab procedures during the year 2012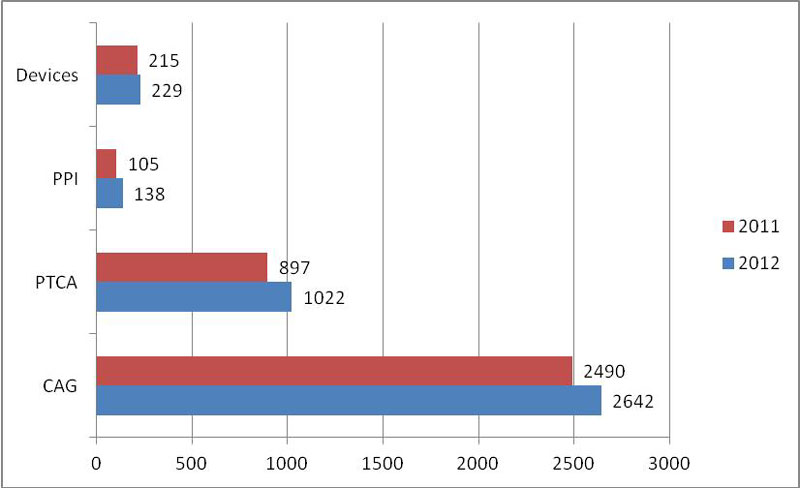 The department of Cardiology has grown remarkably in past 5 years in terms Salient features of Cardiac interventions at Dharma Vira heart centre.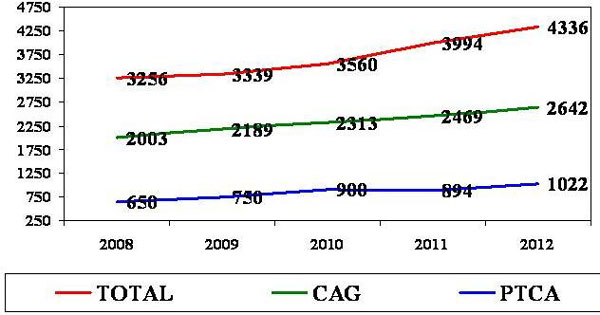 More than 80% of the procedures are done through transradial route as compared to femoral route. What used to be a nightmare for a patient to have a coronary angiography through femoral artery approach and lie in the hospital for 36-48 hours is now a walk in procedure.  Most of the interventions in this centre are done through radial artery.  We have now a Radial Artery Lounge where patients for coronary angiography are admitted on the laungers and enjoy watching TV with a cup of coffee after the procedure and go back home in 3-4 hrs.
Primary angioplasty at the Dharma Vira Heart Centre: SGRH experience
Primary angioplasty with stent implantation is now widely recognised as the treatment of choice for acute myocardial infarction. Numerous studies have documented the superiority of this mode of treatment over the traditional thrombolytic therapy.
The Dharma Vira Heart Centre has an active primary angioplasty programme with an interventional cardiologist and other necessary staff such as an anaesthetist, a technician, staff nurse, etc. available round-the-clock.
This is a much higher percentage than in other centres and is due to round-the-clock operatibility of the Cath. Lab.
The radial artery approach has been used for primary angioplasty in most of the cases since last 8 years. This makes the procedure highly patient friendly, allows early mobilisation and avoids the complications of a groin puncture.
Due to the availability of rapid transport and good coordination among the various members of the Cath. Lab. team, the Dharma Vira Heart Centre has been able to achieve a very low 'door to balloon time' of 44 minutes (range 28-110 min).This means that most patients can expect to have their artery opened within 44minutes of entering the casualty. This time is well within the recommended time of 60 minutes by the American Heart Association (AHA)/American College of Cardiology (ACC). The overall success rate of the procedure was 98.2% with a mortality of 2.8%. This compares favourably with international data. The mortality rate in cases of cardiogenic shock was 24%, which is again below the 30% mortality observed in international trials
Catheter Ablation of arrythmias
This is a procedure to treat abnormal fast heart rhythms. In particular, people may be born with abnormal electrical connections that predispose them to a fast rhythm called "supraventricular tachycardia" or SVT for short and also Ventricular tachycardias ( VT).
In some individuals SVT and VT is a rare occurrence, and they can be treated with medication. In other individuals this can be frequent and quite distressing requiring visits to the emergency room for treatment. In these situations, catheter ablation is recommended to isolate the precise area of the heart that is responsible for the rapid heartbeat, and cauterise that area with radiofrequency energy to permanently cure the disorder.
Implantable Cardioverter Defibrillator (ICD)
The primary function of an ICD is to recognise and treat dangerous fast heart rhythms from the lower chambers of the heart (ventricles) such as ventricular tachycardia and ventricular fibrillation.
First introduced in the early 1990s, these devices have undergone a tremendous evolution, with an ever-decreasing size yet with increasing power and complexity. Similar to a pacemaker (indeed each ICD also incorporates a fully functional pacemaker), these devices consists of a generator (a battery and electronic circuits) and one or more electrode leads, threaded through a vein under the collarbone to the inside of the heart chambers,
Several important differences need to be mentioned: compared to a pacemaker generator, the ICD generator is significantly larger (about the size of a small pager) and unlike a pacemaker, the ICD can recognise and effectively treat fast heart rhythm problems.
Cardiac resynchronisation therapy
What is cardiac resynchronisation therapy?
Cardiac resynchronisation therapy (CRT) is used to to treat the delay in heart ventricle contractions that occur in some people with advanced heart failure The CRT pacing device (also called a biventricular pacemaker) is an electronic, battery-powered device that is surgically implanted under the skin.The device has 2 or 3 leads (wires) that are positioned in the heart to help the heart beat in a more balanced way.
CRT and ICD therapy
Some patients with heart failure may benefit from a combination of CRT and an implantable cardiac defibrillator (ICD). These devices combine biventricular pacing with anti-tachycardia pacing and internal defibrillators to deliver treatment as needed.
Benefits of CRT
CRT improves symptoms of heart failure in about 50 percent of patients who have been treated maximally with medications but still have severe or moderately severe heart failure symptoms. CRT improves survival, quality of life, heart function, the ability to exercise, and helps decrease hospitalisations in select patients with severe or moderately severe heart failure.
Who is eligible to receive a CRT device?
People with heart failure who have a poor ejection fraction (<35%) are at risk for fast, irregular and sometimes life-threatening heart rhythms.
Pacemaker
Introduced in the mid 1950s, these devices are typically implanted through a small incision under the skin in the region of the left or right collarbone.
A pacemaker consists of a generator (a battery with electronic circuits) and one or more electrode leads, threaded through a vein under the collarbone to the inside of the heart chambers. The pacemaker battery may last up to 7-10 years and individuals with a pacemaker should receive regular follow up to assure proper function of the device and the battery.
Modern pacemakers fit comfortably into typical everyday life, and do not interfere with any of the usual everyday appliances, such as microwaves.
Electrophysiology Studies (EP)
This is a specialty field within cardiology that studies the mechanism(s) and treatment of heart rhythm problems (arrhythmias). We have electrophysiology facilities for the diagnosis and therapy of arrhythmias and heart blocks. In general, treatment options for heart rhythm disorders may consist of medication, catheter abalation, placement of a pacemaker or implantable defibrillator.
Non Invasive Cardiology Services
There has been growth in all the non invasive procedures done at the department. The waiting time for the patients for undergoing the procedures has been reduced over the years. Also there has been addition of the state of the art Ec ho machines. Today we are able to offer all non invasive cardiac procedures to the patients.
There is also a full fledged support of the Nuclear cardiology department .also non ivasive CT coronary and other angiographies are being offerd to the patients. We are also one of very few institutions in the country where we can offer Cardiac MRI and PET scan services.
Total - 16330
ECG - 24454
Echocardiography - 9113
TMT, Stress Echo - 4532
Head Up Tilt test - 456
Holter monitoring - 1024
Some of the common diagnostic procedures performed are:
Echocardiography:
3D Echocardiography
Electrocradiogram (ECG)
Stress Echocardiography
Head Up Tilt Test
Tread Mill Test
Holter monitoring
Fetal Echocardiography
Trans Oesophageal Echocardiography
CT coronary Angiography
State of the art Non Invasive test at the centre
CT Angiography -
This is important test by which we can determine the stenosis of coronary arteries in a non invasive imaging format. By doing a specialised CT scan of coronary arteries. We have one of the latest CT scan machines (128 Slice), to perform not only coronary but laso peripheral angiography. It is very important screening test for the patients having suspected   Coronary artery disease.
Cardiac MRI -
The center has the latest MRI machine by which the cardiac MRIs can be done to distinguish between various complex cardiac diseases. Patients are referred from all over the country for this procedure.
PET Cardiac CT -
This test is available only at very few centres in the country. Patients are referred for PET CT to determine the viability of myocardium before coronary revascularisation. It is a very sophisticated test by which cardiac metabolism can be studied and its clinical correlation can be done.
Nuclear Cardiology -
Cardiac nuclear exercise tests are done to document blockages in the arteries.. Patients are referred for this test to determine the viability of myocardium before coronary revascularisation.  Other names for these types of cardiac nuclear tests may be:
Nuclear Stress Test
MIBI stress tests
Myocardial perfusion scintigraphy
Thallium myocardial imaging
Thallium stress scintigram / test
Preventive cardiology services
The Preventive Cardiology program is an integral part of the centre. Its mission is to help prevent cardiovascular disease in our city, state, region and throughout the country . We  offer a wide range of clinical, research and educational programs, each of which is focused on reducing death and disability from heart and vascular disease.
It encompasses the following services: preventive cardiology clinics, which include lipid clinics; inpatient and outpatient cardiac rehabilitation , exercise stress testing, exercise prescription and counseling, smoking cessation, Yoga Lifestyle Clinic and several other clinical, research and educational programs. A new cardiac rehabilitation facility was created in March'2010. Services of clinical psychologist have been started for Inpatients.
The educational and research programs are nationally recognized in the fight against premature cardiovascular disease through prevention.
Yoga Lifestyle Clinic
Yoga is an alternative system of healing, its power being widely harnessed to prevent and treat various diseases of the heart. Yoga is undoubtedly a reliable avenue for holistic health. Disease is a manifestation of underlying disharmony in the mind-body domain.
A complete yoga program involves exercises (asanas), breath control (pranayama), sleep control (yoga Nidra) and mind control (meditation), which are the tenets for cardiac health; also the reason why cardiologists universally recommend yoga to the patients.
Facilities available at Yoga Lifestyle Clinic at Sir Ganga Ram Hospital
Yoga is being taught by an expert Yoga Instructor under supervision of Prof. S.C. Manchanda, Senior Consultant Cardiologist. Yoga Lifestyle is being used for reversing heart diseases by a scientific approach.
For rehabilitation and prevention of coronary heart disease after angioplasty, bypass surgery and heart attacks.
For control of hypertension, diabetes mellitus, obesity, dyslipidaemia, bronchial asthma, migraine, joint pains, irritable bowel syndrome, depression and anxiety.
For stress management of executives, professionals, etc.
In addition, advice is given regarding healthy diet, physical exercise and tobacco cessation for leading a healthy life
HEALTH CHECK PROGRAMME
FOR GOOD HEALTH AND HAPPY LIVING
Sir Ganga Ram Hospital is pleased to offer comprehensive Health Check-up Schemes. Objective of this program is promotion of health and prevention of diseases. In addition to routine medical check-up which is recommended for people of all age group, we offer Executive Health Check-up for all office executives who work under rigid schedule with odd working hours. The purpose of executive health check-up is to examine the apparently normal people, involved and often busy in their responsible jobs, so as to pick up any abnormality at its incubation stage and thus take remedial measures.
Community Services
Community Services are done by free heart check up camps held every 2 months, both within and outside the city. Patients are examined by consultants and free ECG, blood sugar and echo are done.
Academics: The centre is recognised for DNB course in cardiology. Candidates are selected on the basis of an examination. Regular bedside teaching, weekly journals and seminar presentation are conducted. They are posted to the echo lab, cath lab, coronary care unit and wards on a rotation basis. We are a part of many ongoing international trials both in clinical pharmacology and interventional cardiology.
Journal of preventive Cardiology -
Journal of Preventive Cardiology (JPC) (ISSN 2249-4308) is a specialty periodical dedicated to create awareness about prevention of cardiovascular diseases.
The journal is published quarterly and the website provides free access to full text & abstracts of the articles included herein.
A new Journal of Preventive Cardiology has been started. It includes article by professional stalwarts of National and International fame.  It is also available online at www.journalofpreventivecardiology.com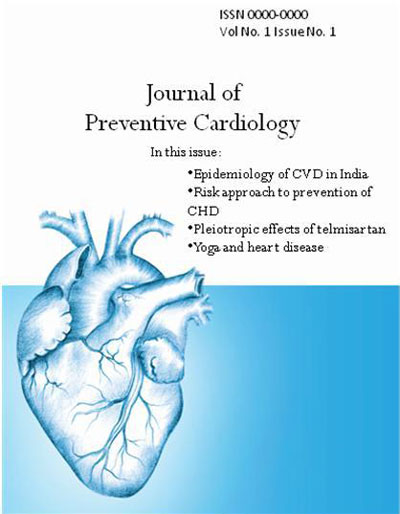 Cardiac rehabilitation at Sir Ganga Ram hospital
Inpatient rehabilitation lasting for the duration of hospitalization:
Supervised ambulatory programs for the patients post CABG, post valvular replacement, post PCI, post MI and post pacemaker implantation.
Patient education programs to assist patients and their family to achieve optimal physical, psychological and social status.
Secondary prevention to control risk factors
Sir Ganga Ram hospital has a comprehensive cardiac rehabilitation program since March 2010 which includes education, exercise training, psychological counseling, yoga, tobacco cessation and dietary counseling. We offer  comprehensive education and exercise programs for patients and their family members after heart attack, heart failure, valvular heart surgery, coronary artery bypass graft surgery, Device implants  ( pacemaker,AICD and cardiac resynchronization therapy).
Education: Cardiac rehabilitation programmes, include a broad range of secondary prevention measures including education of spouses and families which can help the patient resume a productive life more quickly and function more efficiently. It includes understanding of disease process, risk factors, and treatment and prevention strategies.
Exercise: A supervised endurance exercise regimen tailored to the patient is a focus of cardiac rehabilitation program. Patients and their family members can opt for one, two or three month program, which includes 3 visits per week for supervised exercise training with or without ECG monitoring. It also includes yoga, diet and psychologist counseling for stress management.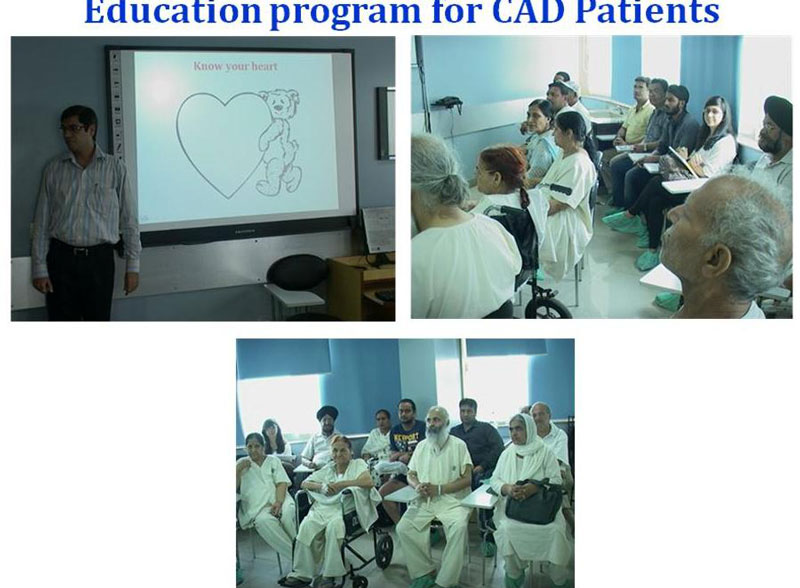 Academics -
The teaching programme is highly rated with high success rate.
The department has been running a monthly CME programme for the physicians for the last couple of years.  The DNB teaching has been one of the important highlights of the DNB programme at Sir Ganga Ram Hospital.
Academic programmes undertaken in the department
DNB teaching
The department of cardiology conducts regularly classes every week which are held in the department. The schedule of teaching is attached  alongwith. The teaching at the centre is being done under the guidance of Dr S C Manchanda, who is the famous Cardiology teacher of international repute and also Ex head of department of the prestigious AIIMS.
Department of Pediatric Cardiac Sciences in Sir Ganga Ram Hospital
The department of pediatric cardiac sciences was initiated at Sir Ganga Ram Hospital in June 2011.
The department has dedicated pediatric cardiac sub-specialists to cater to pediatric cardiology, pediatric cardiac surgery and pediatric cardiac anesthesia. A team of dedicated pediatric cardiac intensive care providers in the form of round the clock pediatric intensive care doctors leading a team of highly trained nurses who are in a patient nurse ratio of 1:1.
Infrastructural Facility:
This Faculty is backed up by a state of the art infrastructure to deliver state of the art pediatric cardiac services.
Pediatric Echocardiographic Laboratory which provides facility for Fetal, neonatal and pediatric echocardiogram (transthoracic and Transesophageal) equipped with high end Phillips IE 33 system at room no F 57
State of the art 7 bedded Pediatric Cardiac ICU with latest infrastructural facility
Pediatric Ward beds 5 in no in the pediatric ward
State of the art cath labs for Pediatric cardiac catheterization and Interventions
Operating rooms with facility to handle all age groups of congenital cardiac surgeries
Services Provided
Department of Pediatric Cardiac sciences at SGRH provide a full spectrum of evaluation, diagnosis and management of congenital and acquired Heart Disease including cutting edge therapeutics from Fetus to adulthood.
Since its conception this team has been performing cutting edge work in the specialty.
The team has performed 114 surgical procedures ranging in age from 4 days to adult congenital age of 48 years. The smallest baby in terms of weight is 1.4 Kg. The variety of complex surgical procedures include Yasui procedure (a combination of a Norwood operation and a Rastelli operation), Arterial switch operation, total anomalous pulmonary venous return, Vascular obstruction of the airway, complete AV canal, Rastelli operation apart from the regular open and closed heart operations performed for congenital heart lesions.
Pediatric  cardiology  faculty  perform  both  diagnostic  and  therapeutic  interventional  procedures  in  children  and  infants including Balloon Septostomy, Balloon Valvuloplasties, Device closure and Stenting of Critical lesions.Our pediatric Cardiac Surgery faculty performs all types of complex neonatal and pediatric cardiac surgeries. Backed up by pediatric anesthesiologists and intensivists, safety of the child is always ensured. Preprocedure assessment  and  evaluation  of  the  child  and  infant / neonate  with    congenital  cardiac  defect  is done thoroughly and efficiently at  SGRH. Services for Level III Fetal echocardiography enables precise prenatal detection of congenital heart disease in the fetus --which allows appropriate planning of postnatal management of the baby.
CLINICAL RESEARCH (Department of Cardiology)
We are handling phase II, III, IV trials at our center since 2003. We have a team of ICH GCP trained Clinical Research Investigator & Research Coordinator. We have received several achievement awards from different sponsor for the Highest enrollment, Data clarity and Compliance with the protocol.
We were the part of the many landmark trials in Cardiology as ExTRACT TIMI 25, PALTO, POLYCAP, CURRENT, BIRELY, ASCEND, APPRAISE, RELY, ARISTOTLE, ATLAS, Freedom and many others. At present we are involved in many cardiology trials like ENGAGE-AF, STABILITY, ATMOSPHERE, ALCARDEO, PARADIGM, TUXEDO, etc.
DVHC is one of the pioneer center for participation in global registries for Hypertension, Coronary artery disease and acute Myocardial Infacrtion, Heart Failure, Atrial Fibrillation, Chronic stable angina.
Every year dept. of cardiology publishes scientific papers in national and international journals.  Our scientific work is acknowledged world over. Numbers of papers are presented at various national and international conferences including Cardiology Society of India, World Congress of Cardiology, Asian Preventive Cardiology and Cardiac rehabilitation Conference, European Association of Cardiovascular Prevention and Rehabilitation, EURO PCR, TCT, etc.
Investigator initiated Research projects are being conducted in the department such as "Health Risk Assessment" project for the benefit of hospital employees, Psychoanalysis of Cardiac Patients is a regular feature of the department.
Emergency services
The DVHC is geared up to take care of all cardiac emergencies. Ambulance services are available to transport very sick patients. We have facilities to transport the sick patients including those requiring ventilatory support, pacing and intra-aortic balloon pump to our centre.
We are able to transport the patients from any corner of Delhi and the peripheries. All one needs to do is to get in touch with us on our helpline numbers.
Contact Help line Numbers: