Surgical Gastroenterology & Liver Transplantation
Faculty
| Unit I | Unit II |
| --- | --- |
| Dr. Samiran Nundy | Dr. Saumitra Rawat |
| Dr. Naimish Mehta | Dr. Suresh Singhvi |
| Dr. Sri Aurobindo Prasad Das | Dr. Ushast Dhir |
Overview
The department was founded in July 1996 with the following objectives:
Patient care - High quality, state-of-the-art, evidence based
Affordable - Treat all patients however sick or poor
Quality training of GI Residents
Research - Finding Indian solutions for Indian problems
Our aims were to take care of the patients on the basis of ethical practice and scientific principles, to maintain higher standard of training, carry out interesting and meaningful research, publish research outcomes regularly in peer-reviewed journals and to establish a state-of-art liver transplant programme.
The department's proudest achievement by far has been the success of its trainees. Someone has estimated that perhaps 70% of all the liver transplants in India have been done by the surgeons who have had some association sometime with this department of Surgical Gastroenterology & Liver Transplantation and it is difficult to think of anyone who has left us and has not done well in whichever field he or she has chosen.
Departmental achievements
On an average the department has 9-10 presentations in the International conference and World Congress (International Liver Transplant Society (ILTS) Conference, International Hepato-Pancreato-Biliary Association). Similarly there have been about 15-27 presentations at the Indian Association of Surgical Gastroenterology (IASG) which is held annually. Our Consultants and Residents have been awarded at these conferences, almost every year, for best poster and/or best oral presentation. In IASG 2010, held at Hyderabad, one of our consultants and two of our DNB students got the 1st and 2nd prize in oral presentation and the best poster award.  In 2011, 2 posters were judged best posters and were awarded 1st and 2nd prize. Three of our DNB students received Young scientist award by ICMR, DST, and one of them was a recipient of Young investigators award by the ILTS. In IASG 2012 one of our DNB resident got award for best oral presentation. The consultants and residents are actively involved in publications and we have had publications (original articles, reviews, case reports, book chapters and books) in both national and international indexed peer reviewed journals. 
State of the art techniques
In our department we perform both open and laparoscopic GI surgery for benign and malignant conditions of the esophagus, stomach, small and large bowel/intestine. Gastrointestinal bleeding both overt and occult is dealt with-in our department. We have a state of the art imaging and interventional radiology services which form an important part of our patient management both in the emergency and elective situation. Liver resections are performed using CUSA, drip monopolar cautery, kellyclysis and harmonic. Laparoscopic upper GI surgery is a new art in our armamentarium which is being utilized in appropriate situations. We recently performed the first small bowel transplant in India which also happened to be the first living related small bowel transplant in the country. Our centre has thus become part of few centres in the world to perform living related small bowel transplant.
The future is that we still strive to remain and counted among the best Surgical Gastroenterology and Liver Transplantation departments in the world.
Academic program:The purpose of the program is to train residents, to manage patients with complex surgical disorders of the gastro-intestinal tract, liver and pancreas. We also have an active liver transplant program. In the year 2000 the National Board of Examinations recognized the department for DNB (Surgical Gastroenterology). Initially there were 2 candidates per year which has now increased to 3 in the last 3 years. These candidates are selected through an entrance examination. Our residents have been invited as Chair / Faculty in different International and National conferences. They have presented over 15 scientific papers in the last 2 years. After the completion of their training they have been readily accepted in leading academic departments across the world e.g. Birmingham, Leeds, Athens, Amsterdam etc.
In the year 2003, we launched the Gyan Burman Hepatobiliary Fellowship program, which is of 3 months duration, (paid fellowship along with facility for accommodation) to provide practicing surgeons with an experience of surgical gastroenterology and hepatobiliary surgery.
In 2008, we started one year Liver Transplant fellowship with the aim of providing residents training in liver transplant. They get involved in preoperative work up, intraoperative assistance and postoperative care and follow up. Till date 8 fellows have been trained and all got absorbed in different transplant centers.
In 2008, we have also started one year SGLT fellowship with the aim of providing residents short but comprehensive training in gastrointestinal surgery and liver transplantation. After selection by interview, the fellows take active part in departmental academics apart from the clinical and research work.
Audit : Every week the departmental performance is evaluated in a comprehensive audit meeting, which is published as an annual audit. The elective and emergency operations performed in the previous week are discussed in this meeting. This audit is undertaken to improve the care of patients and to consider whether current management policies need to be changed.
Services
Over the last 16 years, we have performed a complete range of GI procedures including liver transplantation. The number of surgeries performed has increased progressively from 291 in 1997 to 1610. Elective operations have increased from 216 to 1311 and emergency operations from 75 to 299.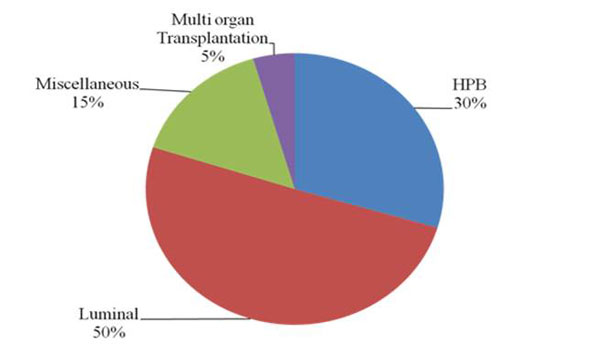 Spectrum of surgeries performed by the department every year
Number of Admissions and Operations in last 15 years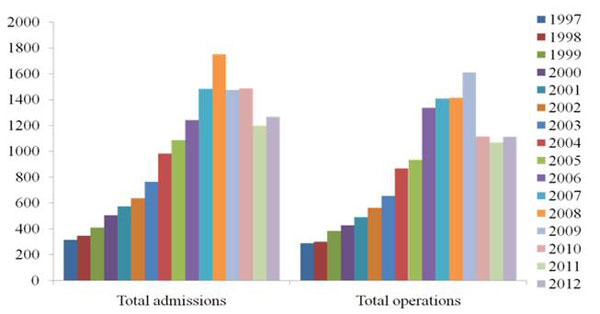 Liver Transplantation:
The SGRH Liver Transplant Unit after being launched in 2001 has become one of the foremost state-of-the art facilities of its type in the Indian subcontinent. It provides a world-class service in cadaveric and living related liver transplantation with advanced infrastructure and experienced multidisciplinary team to support all aspects of the specialty. Our key strengths are internationally recognized faculty members who have been previously trained and have worked in the best centres abroad, operating rooms conforming to international standards and a dedicated Liver ICU which is second to none.
Our department now serves as a regional centre for liver transplantation in the Indian subcontinent, with several successful transplants having been performed on patients from different parts of the world. We have taken some National initiatives for cadaveric organ donation which we hope will take shape in the near future enabling us to transplant more and more patients with end-stage liver disease.
From 2001 till date we have performed a total of 681 Liver transplants.
Liver Transplantation (Living donor related & cadaveric) - 681
Living Donor Liver Transplantation – 671
Cadaveric transplantation –10
Liver transplantation in children – 55
Combined Liver and Kidney transplantation – 7
Dual lobe transplantation -1 (a right lobe and a left lobe from 2 separate donors were transplanted into a single recipient)
Swap transplantation – 4 (when blood group compatible donor was not available within both the families)
Domino Liver Transplant - 1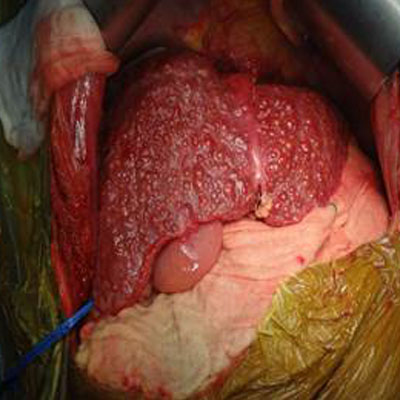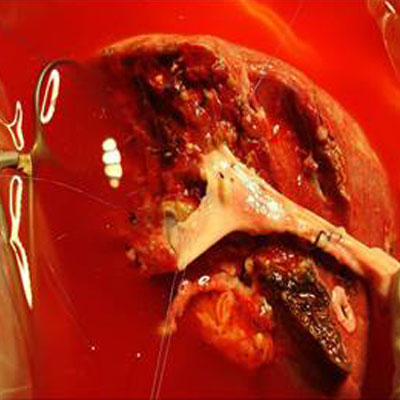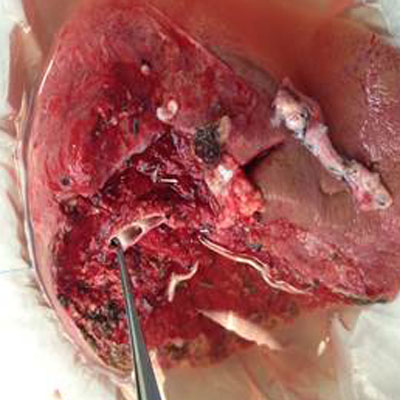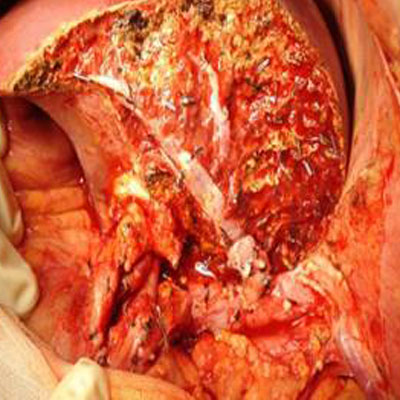 Hepato-biliary & Pancreatic surgeries
Liver resections:
State of art equipment is available for preoperative evaluation such as MDCT, MRI and PET-CT and safe liver resections eg: CUSA, Argon beam coagulator, and intraoperative ultrasound facility. Radiofrequency ablation (RFA), Transarterial chemoembolisation (TACE) is also available.
More than 400 liver resections performed
Mortality 2/144 (1.38%) in low risk patients
Mortality 10/47 (21.27%) in high risk groups e.g. cirrhosis, high jaundice
Cost of liver resection at SGRH - Rs. 175,000/- approx.
Liver surgeries for
o Hepatocellular carcinoma - 150
Hepatoblastoma
Hemangioma
Metastatic tumors
Benign liver tumors
Hydatid cysts
Amebic liver abscess
Liver injury
Hepatolithiasis
Hemobilia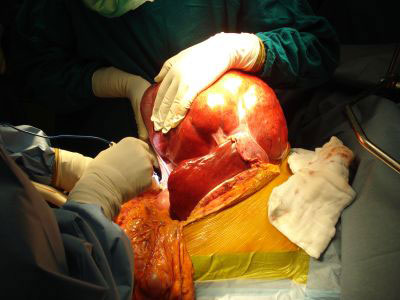 Operative photograph showing a large tumor involving the right lobe of liver
Surgeries for gallbladder and bile duct (1632)
Gall bladder cancer: Fifth most common GI malignancy and more common in North India compared to South, presents with either pain, jaundice or abdominal lump. Triphasic CT is helpful not only in the diagnosis but also in assessing the resectability.
CT showing fundal mass invading the adjacent liver in one of our patients.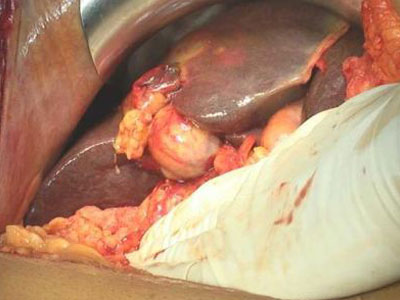 Operative picture showing mass in the gall bladder for which radical cholecystectomy was performed.
Surgeries for gallbladder cancer
Gall bladder cancer 213
Segment III bypass procedure
Benign disease – gall stones – laparoscopic & open procedure - 520
Bile duct: Over 298 patients with cancer of bile ducts or bile duct injury following surgery for gall bladder stones have been successfully managed
Surgeries for Biliary system
Cancer (Hepatectomy/ Whipple's procedure)
Choledochal cyst
Mirrizzi syndrome
Hemobilia
Bile duct injury (Biliary fistula)
Benign biliary stricture (Primary hepaticojejunostomy/ re dohepaticojejunostomy)- 150
Biliary atresia – Kasai porto- enterostomy
Choledocholithiasis
Pancreatic surgery: We are a high volume center for pancreatic surgery. We perform a complete range of procedures for the pancreas including resection and surgery for acute and chronic pancreatitis. Number of operations till date is 1753.
Pancreatic cancer (Whipple's procedure/ median pancreatectomy/ bypass     procedure) – 624
Chronic pancreatitis - 153
Severe acute pancreatitis (necrotizing pancreatitis) – necrosectomy - 400
Pancreatic cystic lesions - 197
Trauma
Pancreaticoduodenectomy: We have performed more than 325 pancreaticoduodenectomies and our results compare well with the best of international institutions. The average hospital stay for an uncomplicated patient is 8 days and the cost of operation is Rs. 125,000/- approx.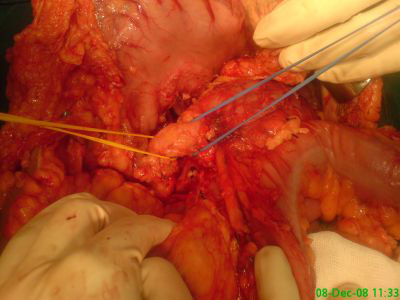 Pancreatic neck slooped before transection in Whipple procedure
Upper GI Surgeries
Major esophageal surgeries for both benign and malignant conditions of esophagus. A total of 402 operations have been performed for diseases of the esophagus.
Esophageal cancer - Esophagectomy (Transhiatal / Transthoracic) - 180
Corrosive stricture (acid/alkali ingestion) – Gastric/ colonic pull up - 32
Hiatus hernia repair - 18
Esophageal perforations
Tracheoesophageal fistula
Achalasia
Gastro-duodenal surgeries for a wide spectrum of diseases of the stomach (780) and duodenum (281) have been performed in the last 14 years.
Gastric (stomach) cancer - gastrectomy (Total/ Subtotal/ partial/ distal) - 300
Duodenal cancer
Peptic ulcers (Gastric/ duodenal)
Gastro- duodenal bleeding
Gastric obstruction
Duodenal fistula
Gastro- duodenal perforations
Colorectal Surgeries
Colonic surgeries Total number of performed for both malignant and benign conditions till date is 1670.
Cancer – 423
Ulcerative colitis (Subtotal colectomy/ proctocolectomy/ hand sewn & stapled pouch procedures) - 370
Obstruction
Polyposis coli
Bleeding
Obscure G.I. bleed
Perforation
Fistula
Pouch related complications
Diverticulitis
Appendix
Surgeries for Laparoscopic and open appendectomy
Rectal and anal canal surgeries for different pathology performed till date is 749.
Cancer Mesorectal excisions (LAR/ APR/ Sphincter saving operations for rectal cancer) - 232
Rectoveginal fistula - 37
Rectal prolapse
Hemorrhoidectomy – stapled and open procedures
Complex fistula in ano
Portal Hypertension
Shunt procedures for portal hypertension has come down over the period of time and this is because of the excellent in house Gastroenterology support. A total of 262 operations have been performed for portal hypertension till date.
Portosystemic shunt procedures (splenorenal/ portocaval/ mesocaval)
EHPVO - 132
NCPF - 40
Budd Chiari syndrome
Cirrhosis with bleed
TIPPS procedure
Non-liver surgeries in patients with portal hypertension
Obstructed umbilical hernia
Inguinal hernia
Gall stones
Mucormycosis of stomach with bleed.
Miscellaneous
Small bowel surgeries form a major part of the surgical load (total – 1747), which is for a varied spectrum of diseases.
Cancer
Obstruction - 403
Bleeding - 98
Perforation - 160
Fistula - 142
Gangrene- 175
Crohn's disease
Mesenchymal tumors
Obscure GI bleed: Management of patients with obscure GI bleed can be very challenging. After exhausting all the available modalities of investigation, in these patients we have come to a conclusion (after managing such cases for more than a decade) that the commonest site for bleed is from terminal ileum or cecum and that blind right hemicolectomy is the treatment of choice in majority of the patients in India. Patients with portal hypertension and chronic renal failure, there is a need for on table enteroscopy and colonoscopy to rule out ectopic varices, portal hypertensive colopathy and uraemic colopathy. In them there is a small chance of re-bleed, hence one needs to be careful before performing a blind hemicolectomy.
Enterocutaneous fistula: We have a vast experience in management of enterocutaneous fistulae and we have a policy of introducing early enteral feeding and exteriorization of the fistulated segment to build up the patient's nutrition. We also believe in distal mucus fistula feeding for very high and proximal fistulae, and this is possible due to the excellent in-house stoma care facility. This distal bowel feeding helps in utilizing the whole segment of bowel for nutrition. We also believe that apart from building up the innate immunity, enteral feeding also reduces the bacterial translocation and avoids all the complications associated with expensive parenteral nutrition.
Other surgeries including
Pseudomyxoma peritonei (Hyperthermic intra-peritoneal chemotherapy/ peritonectomy/ debulking) - 9
Gastro-intestinal stromal tumor
Case stories
41year female with Hepatic GIST underwent right hepatectomy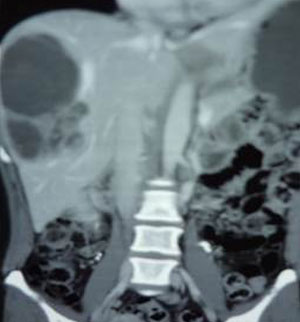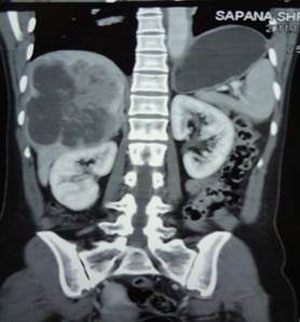 CT angiography showed 15 X 12 cm heterogeneously enhancing mass lesion in the right lobe of liver involving segment VI & VII with, cystic degeneration, the mass was compressing right hepatic vein.
23-year-old male, a diagnosed case of B cell acute lymphocytic leukaemia with Hepatic mucormycosis underwent Right hepatectomy.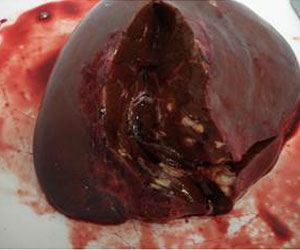 On computed tomography, multiple coalescent thin-walled hypodense lesions in the right hepatic lobe (segment 5 & 8).
Pathological specimen of resected right lobe of liver showing honey- combed cavity containing pus.
A Child underwent Cholecystojejunostomy for Progressive Familial Intrahepatic Cholestasis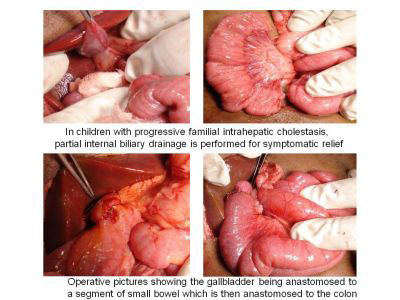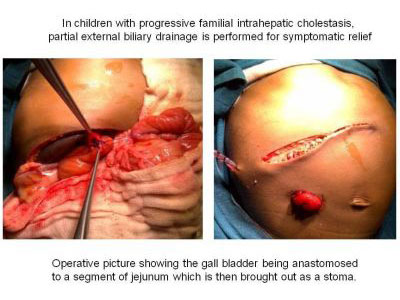 Patient underwent Right Trisegmentectomy for Hilar cholangiocarcinoma after portal vein embolization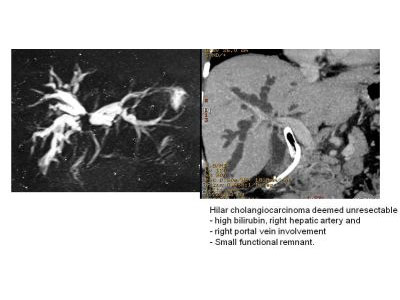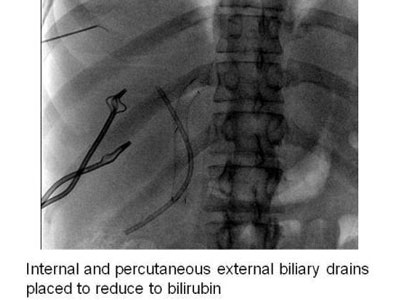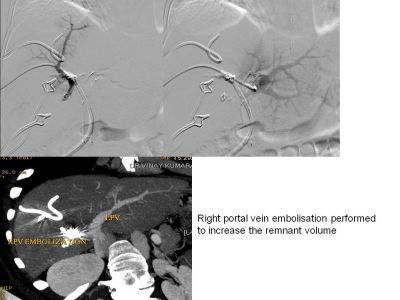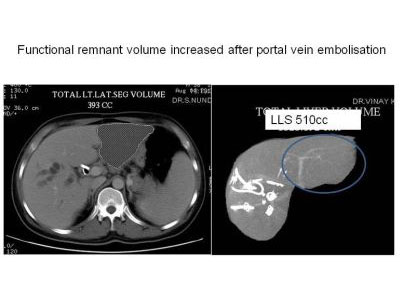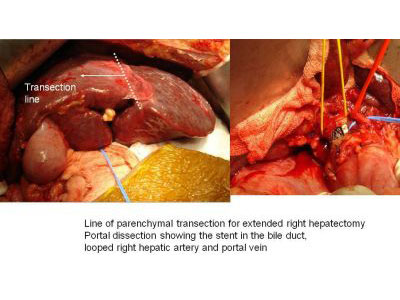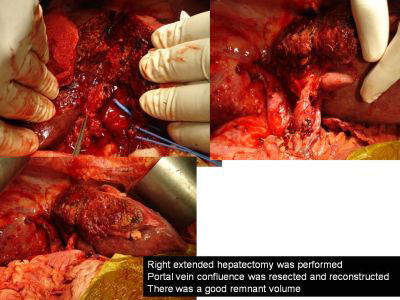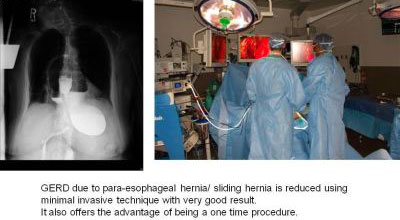 Patient underwent Laparoscopic paraesophageal hernia repair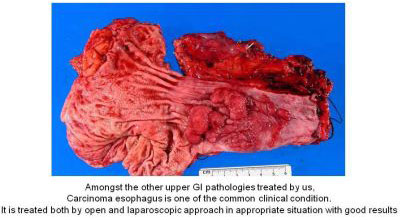 Patient of carcinoma esophagus underwent esophagectomy
Gallery
Contact us: